Most people would love to listen to live music performed in their living rooms, but don't want those unsavory musicians hanging around. Ugh. So, here we have cataloged MIDI-to-anything "MIDI in" interfaces, used to MIDI-fy custom Nickelodeons, Orchestrions and all sorts of mechanical musical instruments, new and antique. That way, folks can score ABBA MIDI files from the 'web and have them play automatically on an accordion in the privacy of their own homes. There continues to be a lot of interest in this type of project, so please let me know if this list has been helpful.
I am listing only a small portion of the manufacturers' data below. Please inform me of any corrections or suggestions. For a terrific reference regarding adding a MIDI interface to an existing acoustic instrument, please see the archives of the excellent Mechanical Music Digest (MMD).
-=-=-=-=-=-=-=-=-=-=-=-=-=-=-=-=-=-=-=-=-=-
MIDI Decoder 128
"This is a full 128 note MIDI decoder, professionally made printed circuit board. Capable of driving magnetically-driven devices such as solenoids, electromagnets, motors and lights up to 35VDC/500mA per note. Perfect for connecting a MIDI source, such as a MIDI keyboard or PC to a real acoustical instrument fitted with electrical drivers. We use this decoder in our electrically driven pipe organ valves."
MIDI Encoder and Decoder boards. Example:
64 outputs, 35 volt , 500 mA max
Size: Only 100 * 130 mm: can fit in any instrument, even the smallest.
All outputs are clearly marked on the board
Midi channel can be changed directly on the card by push button and LED, no need any computer.
Price mounted and tested : €80.00 + shipping
DIY kit version may be available.
Instant DIY MIDI Controller.
Attach switches, switch matrices, potentiometers, rotary encoders, and digital & analog signals. The MIDI CPU sends a mixture of MIDI messages on a mixture of MIDI channels. $49.95
Quite a range of MIDI encoders and decoders. Example:
Converts MIDI notes to 64 digital logic outputs, about $50.US
Pulsed modes possible, with constant duration and velocity dependent
Dual coil control in SAM control mode (32 output pairs)
Can drive indicator LEDs directly at 3-4mA
MIDI THRU for chaining the boards, or any MIDI equipment
The mother lode! A VAST array of inexpensive MIDI encoders and decoders, several of which are re-sold by some of the folks on this list, I believe. Example:
Model mddp128uN/32s 32-output decoder, about €105.
If you search Google, you will find a lot of great projects built with these boards. The MIDItools boards were a product formerly sold by PAVO.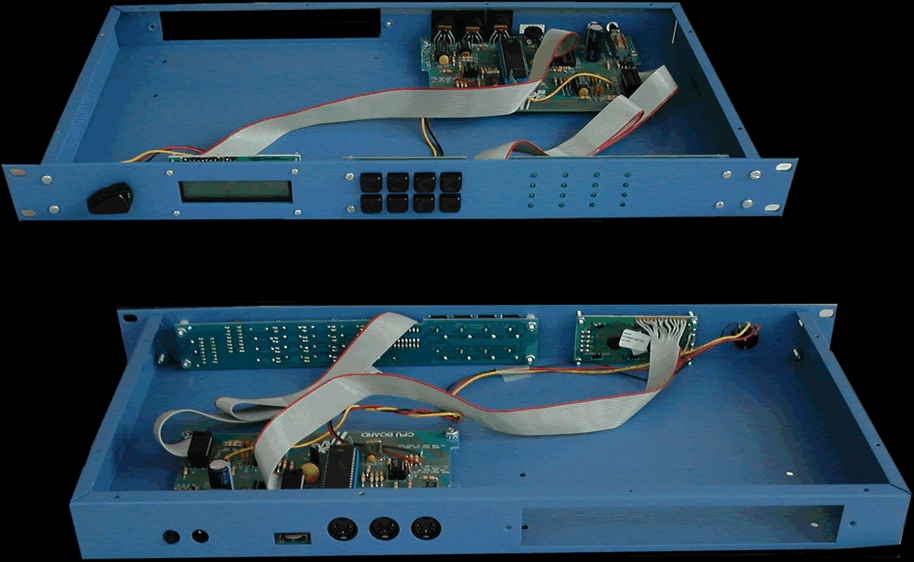 "MIDItools is sold either as a kit or as an assembled unit. It comes in either a rack mounted or hand held configuration. Once you know what application you want you simply choose the platform and place an order. We program the processor chip for you and send it with the kit or unit. The nice thing about MIDItools is that once you have one, you actually have several devices. All you have to do is pop in a new processor chip, and you have a completely new tool."
MIDI Decoder and Encoder boards. Example:
Model MTP-7 MIDI-to-parallel decoder board (about €63.):
32 note outputs
Alternative option has 28 note outputs and 4 program change outputs
Any output can be mapped to any MIDI note – ideal for non-chromatic instruments
Outputs can sink 500 mA @ 35 VDC
Easy installation with screw terminal connections
The cost of this unit includes programming, installation instructions, delivery and technical support by e-mail/telephone.